Hotels.com Strategy
Focus on architecture; Botmunch rules!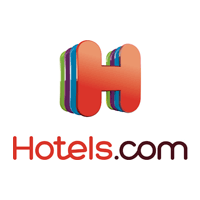 Background
It's mid 2011, Hotels.com had lost the organic traffic plot and were looking for some help. They had fallen back in market share of organic search and decided enough was enough. Conveniently, they had also decided to replace their SEO lead and took the opportunity to do a bit of navel gazing. We were invited in to have a good dig about, not literally, you understand, and to come back with a grown-up and brainy strategy.
What we did
We developed a grown-up and brainy strategy, of course, and suggested the following:
Spend a huge amount of time and effort sorting out the site's technical architecture, so that Google gets a much clearer picture of everything.

This included our first, and still greatest, Botmunch project, which discovered 70% of all Google requests were bounced around with dizzying redirects, the fixing of which lead to 12.5% increases in organic visits all on its own, yes really!

A reintroduction of territory sites (uk.hotels.com, au.hotels.com etc.), now that Google can be hand held into handling the confusion of the duplicated content that is caused.
Build stuff that captures and analyses what your millions of customers tell you they want and turn it into content that is relevant to it, simple.

And, stop building links, for goodness sake, please.

Spamfink has been deployed a few times now as a risk management strategy
What happened
The strategy was embraced, almost with hugs, they were so relieved, and is steadily being implemented across the Hotels.com sites since early 2012.
24 months and counting of double digit increases in organic visit growth, which is really marvellous.
Lots more, additional, organic traffic from new territory sites.
The team gets our approach, and is fully behind it; making the job a whole lot more satisfying in the process.
Many millions of dollars in additional revenue, which is rather the point, wouldn't you say.
Hotels.com keep us in the loop, participating in quarterly reviews and for ad hoc activities.
Enough bragging
Want to join our list of extraordinary clients? Give us a shout.