Provider
Google, I want my organic keyword data back.
This is for you if:
You'd like to have a detailed view on why people are turning up at your website via organic search
You'd also like to know where those people are turning up to
The sight of (not provided) in your analytics reports makes you sad/angry
We will:
Nail a service to your Google Analytics and Google Webmaster Tools that gets you a largish chunk of your keyword data back
Make it really easy for you to get at it, manipulate it, download it and so on
The problem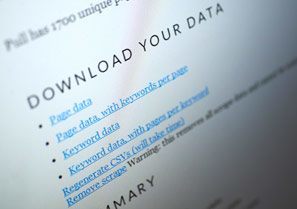 Dammit, Google, what are you playing at? You take our organic keyword data away, and leave us looking sadly at (not provided) in our analytics reports.
How we can help
Fear not, we can still get at the stuff (well, a good 60% of it, anyway), it's just a little fiddly nowadays. We make it super simple.
How it works
Our service plugs into your existing Google Analytics (or Coremetrics, at a push) service, and Google Webmaster Tools (GWT), and injects the per page keyword data from GWT into the analytics data for those pages. The resultant information is stored in a database, and available for download as a CSV file, either on demand or on a regular basis. This means that you get a complete record of your GWT data (rather than the three months Google gives you) from the point the service is switched on.
Provider doesn't replace all of the search visit data Google Analytics provided—it replaces the bulk; some 60% in our current estimates—but it also gives you something you've never had before…
…something better:
Impressions—the number of times your organic result appeared for a search—and
Average Rank for a web page based on the search queries it appeared for
Magic!
Provider runs on the same underlying system as our Deviant and Reporter services, and so integrates quite nicely.
Contact us
Time to blow apart that (not provided) data?