Expert Technical Consultancy
Building websites well is hard. We'd like to help.
This is for you if:
You run a big ecommerce website
You need to make some changes to it
You want it to be perfectly pitched for Google and your customers
We will:
Ensure that your new website is well-built
Work out if anything is preventing this, and how best to put it right
Work closely with your project and technical teams to get everything shipshape
The problem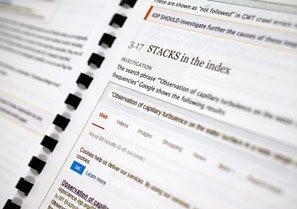 Building websites is hard. There's so much to get right, and underlying platforms make it so very difficult. And it's all rush, rush, rush. Which means that implementation standards are ghastly, because the board know when it's late, but probably not whether it's as technically good as it could have been...
How we can help
We are in a uniquely privileged position of being intimately involved with the technical architecture of lots of different large scale e-commerce stores. We will mentor technical staff to keep you focused on performance and quality, come up with technical solutions to problems arising, and work with your technical team to get them implemented. We will also help you to measure the results, if required.
How it works
Your problems aren't unique. Chances are we have already worked with similar issues, such as a recalcitrant back-end, crazy SaaS issues, problems with filtered navigation, complicated redirection instructions to search robots, and many more besides… and have already fixed them, albeit for someone else.
We happen to have expertise in most parts of website development in-house, from the graphic design, HTML/CSS, web fonts and Javascript to PHP, ASP, JSP and Python (and even VisualBasic, Lord help us), from Apache to IIS (and a soupçon of Nginx, which all the cool kids are using), to MySQl to MongoDB, as well as internal search solutions like Lucene/Solr, HTTP, caching, log analysis, redirections, robots.txt, sitemaps.xml, Google product feeds. And many other technical things. We're good teachers and mentors, and can work closely with both technical types and managers. We like giving crash-course training and regular QA sessions.
On the rare occasion we don't know, we know someone who does. Or, at worst case, can read the instructions really quickly.
Give us a shout
If you want your website to be technically gorgeous.