Google Book
50 Ways to Make Google Love Your Website.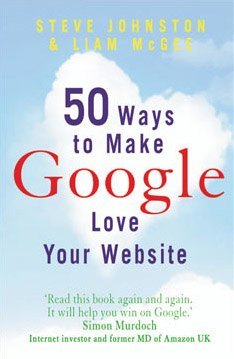 Written by Taxonomics founders Steve Johnston and Liam McGee, 50 Ways To Make Google Love Your Website does what it says on the tin, and rather more.
It doesn't pretend that Google isn't complicated. It is an accessible, detailed explanation of how and why Google loves some websites, and gives others the cold shoulder. It gives you a practical, achievable list of things you can do to earn Google's love, getting it to send more, better quality traffic to your website.
We know that not everyone has an enterprise ecommerce business... so we wrote this aimed squarely at a general audience – anyone with a website who would like Google to love it a little (or a lot) more. It has jokes. It is intellectually robust. It goes into a lot of (accessible) detail. It has a whole chapter on selling goldfish. It's not Google for Dummies, it's Google for the increasingly sophisticated small to medium sized business (though a lot of our enterprise clients love it too!).
Praise for 50 Ways to Make Google Love Your Website
"Read this book again and again. It will help you win on Google." Simon Murdoch, internet investor and former MD of Amazon UK
"This book is a must read." Adrian Land, Director of SEO, Hotels.com
"Whenever we work with Steve and his team, our visits from Google just grow and grow." Lelia Ferro, Editor 4beauty, Channel4.com
"If you sell online, you need this book. It's not just for big business." Paul Hines, Dettagli menswear retailer, Tarporley, Cheshire.
"The combination of myth-busting explanations and practical advice sets this book apart in what is a complex but critical area of online marketing." Ashley Friedlein, CEO Econsultancy.com
"I'm making this book compulsory reading for every member of the team." Chris Thurling, Managing Director, 3Sixty full service digital marketing agency, Bristol
"Every self-respecting online professional will read this book." Thomas Power, Chairman, Ecademy
"A commendably readable journey through the complexities and processes of gaining Google's favor." Rand Fishkin, CEO, SEOmoz
"Absolutely invaluable – required reading for Google experts and novices alike." Andrew Rosenheim, writer and former Managing Director, Penguin Press
"Steve knows more about Google than anyone I know." Julian Richer, Entrepreneur and Chairman, Richer Sounds PLC
Reviews of 50 Ways to Make Google Love Your Website
"If this book won't change your life, it might transform your business." Director Magazine review.
"This is search engine optimization for the masses." Author Brian Clegg review.
"It's comprehensive, readable and contains some great ideas." Rated: Best of its kind Management Today (image).
Publication details
Title: 50 Ways to Make Google Love Your Website
Authors: Steve Johnston and Liam McGee
Publisher: Random House Books (6 May 2010)
Language: English
Format: Paperback
Paperback: 272 pages
ISBN-10: 1905211252
ISBN-13: 978-1905211258
Contact us
If there's anything you'd like to know more about in the realm of ecommerce + science,